Middle market companies with over 169 million employees and $16.6 trillion in sales contribute $11.5 trillion to the world GDP. This was indicated in a recent HSBC report, Hidden Impact: The Vital Role of Mid-Market Enterprises.
The report shows also U.S. with 55,700 middle market companies has the largest number of middle market firms among other countries. The core U.S. middle market companies with annual sales between $50 million to $500 million contribute $1.7 trillion to the U.S. economy and their 16.5 million employees are generating 13 percent of US output. That makes U.S. an economy with the most middle market companies on a global comparison.1
According to Thomson Reuters, the number of mid-market M&A deals (transaction value below USD1 billion) decreased from 3,326 in 2005 to 2,041 in 2009. (Figure 1) The number of deals then bounced back slightly since 2010; however, the number is still much lower than the pre-2009 level. Total transaction value between 2005 and 2014 also shows the similar trend (Figure 2).
In 2014, there were 2,303 mid-market transactions completed in the US market, amounted to USD315.3 billion. Several factors accounted for another good year for transactions including increasing confidence in the well-being of the economy, massive cash on corporate balance sheets, highly liquid securities in private equity funds, all-time low interest rates and well performing equities markets. (Figure 2). Commercial real estate, oil and gas, software, banks and professional services were the five most active middle market sub-sectors in terms of transaction volume.2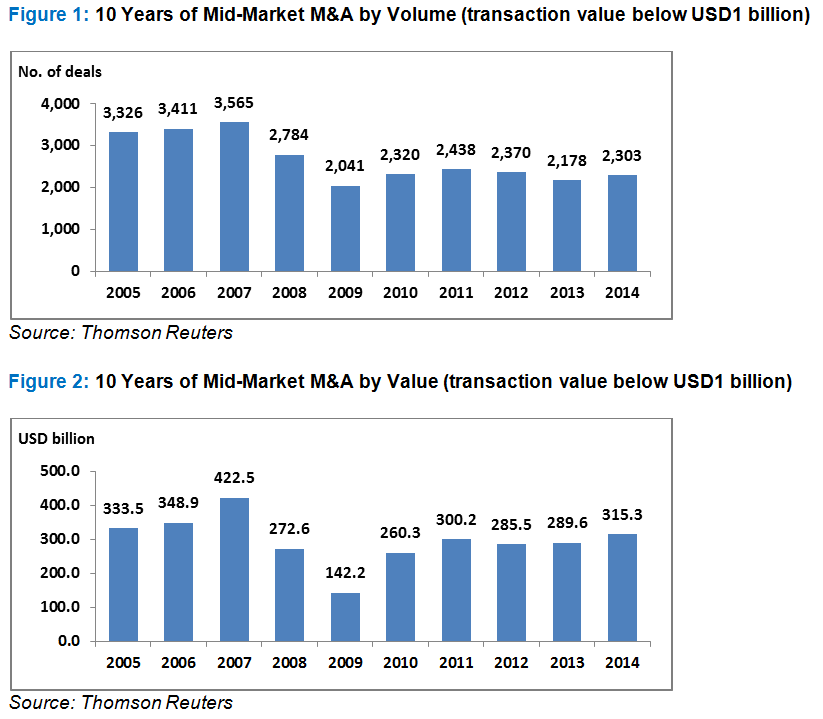 References
1. U.S. Has Most Middle Market Companies on a Global Comparison, Though Segment Can Be Overlooked. (2015, March 3). HSBC USA
2. 2014 Best Year for Middle-Market M&A Since 2007. (2015, January 12). http://www.themiddlemarket.com/news/strategic_m_a/2014-best-year-for-middle-market-m-254206-1.html
Note
Stratiqa Inc. do not make any warranties about the completeness, reliability and accuracy of this information. Any action you take based upon the information you find in this article, is strictly at your own risk.